Auto Repair and Maintenance in Auburn, WA
WHY BRING YOUR VEHICLE TO US?
It can go without saying, but getting in a collision is a stressful experience, no matter how small it may be. We're here to help where we can - by taking the stress and hassle out of your vehicle's repairs. Our Certified Service technicians are trained by GM to know every inch of your vehicle inside and out, and they're dedicated to restoring your vehicle to its pre-accident condition. We work with the major insurance companies to help speed up the claim and repair process, and we're here for you 24 hours a day with towing service in Auburn, Renton, Kent, Seattle, Tacoma Puyallup, and the surrounding area.
AUBURN CHEVROLET BODY SHOP
From scratches and door dings to fender-benders and major frame damage, the Auburn Chevrolet Collision Center offers complete auto body repair. Our team of dedicated auto repair professionals are standing by to assist in anyway we can. Whether you have been in an accident or just need some minor repairs, we have the skills, equipment, and knowledge to get the job done right. We repair all make and model vehicles at our Auburn body shop, so contact us today for all your collision repair needs.
WHAT TO EXPECT AT OUR AUBURN AUTOBODY CENTER
When you come to us for auto body work, you'll receive a written estimate of repairs, along with a timeline for completion. We offer and recommend Genuine OEM GM Parts where needed. We'll also work with your insurance company for billing. Our ASE and I-CAR Certified technicians will use our state-of-the-art equipment to get to work on your repairs in a timely manner so that you can get back on the road. And of course, we are happy to answer any and all questions you have about your auto body repair!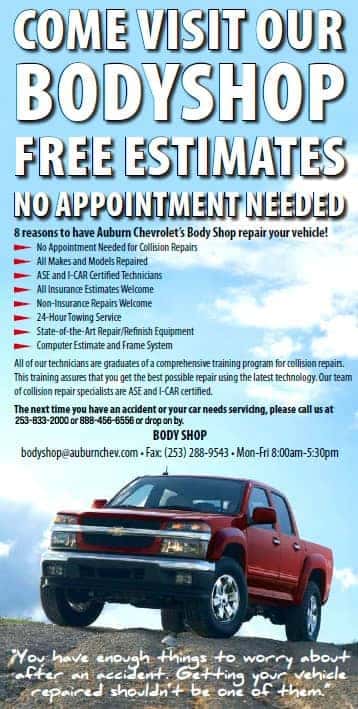 Not All Parts Are Created Equal
GM Original Equipment is important to the repair process. GM OE parts offer proper fit, which eliminates unsightly gaps, rubbing, or other issues caused by improper fit. Since GM Genuine Parts and ACDelco OE parts are those originally designed for your vehicle, you can be sure that they maintain the same structural integrity and quality as those that were factory-installed. When it comes to your collision service, connect with us about GM Original Equipment.
The Advantage of GM Genuine Parts vs. Non-OE Parts
GM GENUINE PARTS
NON-OE PARTS
Designed to GM's safety requirements
May not have crumple zones or meet manufacturer's stringent safety requirements


May leave unsightly gaps between body panels
May require workarounds and more time to get parts to fit
Primed and ready for paint
May not be primed, affecting paint adhesion and overall finish quality
No guarantee of material or design quality
Proven Structural Integrity
Ill-fitting parts and build quality could affect car's resale value
The Choice Is Yours. Not Theirs.
Discuss GM OE parts with your insurer
GM Original Equipment is the closest to factory installed parts for your GM vehicle. To help promote the proper, safe repair of GM vehicles, it's important to request OE parts when taking your vehicle in for collision repair.
Check your policy to be sure you're covered
Check your policy to make sure you are covered for OE parts in all instances. Oftentimes, you may be covered for "parts of the same kind and quality." Some policies may specify OE parts must be used and other policies may only cover non-OE parts.
Where should I take my vehicle?
Ultimately, you're in the driver's seat when it comes to where to take your vehicle for repair, not your insurance company. As GM dealers, we maintain a high standard of customer service and repair so you can feel confident and secure your vehicle is in the right hands.
Keep your GM a GM
Preserve the integrity of your GM vehicle by receiving the proper form, fit, function, and quality you expect from GM Original Equipment, by using GM Genuine Parts and ACDelco parts.
Get Directions
1600 Auburn Wy N
Auburn, WA 98002
Sales Open Today: 9 AM - 8 PM
Service Open Today: 7 AM - 5:30 PM
Parts Open Today: 7:30 AM - 5:30 PM
Our Reviews
They are always friendly and knowledgeable. It?s nice to see the same employees there.
We appreciate the care and attention that we receive when we visit the service department at Auburn Chevrolet, for any of Our vehicles' repairs. Making time for vehicle maintenance can be challenging, though Cindy always makes the process as easy as possible and with a smile too! Thanks everyone for making it a good atmosphere of positivity, and also a great experience all around.
I had a great experience with this dealership! Everyone was friendly and went out of their way to give me the best possible customer service. Everyone seemed to work as a team to provide a great buying experience. I felt like they were very honest and were there to take care of anything I needed. I left there with a great car and a lot of new friends.
salesman Fred was very nice to deal with. Very knowledgeable, spent time showing David truck options. Not pushy. Brain the manager was respectful, fun to talk with. Nathon in finance made the paperwork experience fun and he explains papers easy. David and I had a Great experience at the Auburn dealership. Have been recommending people if truck or car needs see Fred
Service staff was very professional and helpful regarding the service I had requested
I absolutely could not be happier with the Auburn teams customer device! Highly recommend this dealer. Finally low pressure and great service! I was look for a specific car and they were able to get it when no one else could. I came over from Spokane because of the service! Dr. Simonds
I tried to buy a car through them, and although the factory was not making my truck in any reasonable time frame, the guys I worked with, Faiz in sales, and Jamie and Nate in finance, were among the most professional guys I've ever dealt with in the auto industry. We weren't able to get my rig built, but if I had to do it again, I would use these guys without hesitation. If you're in the Seattle area, give Auburn Chevrolet your business. They don't BS you around.
Dane was very professional, knowledgeable, and understanding. He explained everything that was going to happen step by step and took away the frustration that I had with the issues with my new truck. I would very much recommend the Chevy dealership in Auburn to any of my friends and/or family.
Everything was great I had a loaner car the whole time.they are efficient and helpful
No problem getting a service appointment that worked with my schedule. Friendly staff.
Fred Dearing is an exceptional salesman, listened to all my wants and needs when it came to what I was looking for in my car. He was very knowledgeable in ALL aspects of the vehicle! This is the second vehicle we have purchased from Auburn Chevrolet and will continue to go back with all our vehicle needs and refer all our friends and family!
This will for ever be my dealership! What a genuine Pleasant experience. I will never go back to any other dealership!!!!!!! Honest caring friendly.
Friendly , fast, good work.
Helpful, patient, get the job done attitude.
Everything was as I expected (smooth).
Candie was extremely helpful in answering questions and accommodating our needs. Also very courteous and polite. Great job, awesome buying experience!
My husband and I came to replace my car that was totaled in an accident just a few days before. We had a pretty unique financing situation and it took a lot of phone calls on our end and on the end of the dealerships who were selling a lot of cars during this time due to their employee pricing event. Fred, our sales person was charming and warm. We knew we wanted to work with him as we had prior experience with him before when we came on the lot. We also appreciated all the work that Carlos did to push through our financing. Nate, who wrote out all the paperwork was quick and efficient. Lastly, the GM, Eric was so kind in helping us deal with native american sales tax information. We really appreciated the sensetivity from him as he worked with his crew to accomodate us while we took possession of our vehicle on tribal land. We know where to send our friends. Thank you!
Just love being a part of this Chevy familyY'all are always up to par and everything you doThank you for being so great
Dane and his team are awesome
My husband and I went to this dealership to look at a specific car and we got there pretty late. I did a quick test drive and after that we went inside to talk details. I have to say that our sales guy, David, was beyond patient with my husband! It took my husband about 2 hours to talk make up his mind about getting the car. So we didn't even start the paperwork until almost 730pm and they closed at 8! Everyone we interacted with was very friendly, professional, and patient. We got a great deal and walked out very happy.